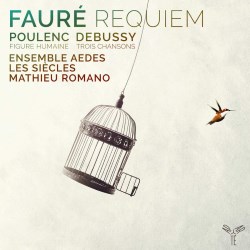 Of all the Requiems ever written, I imagine that by Gabriel Fauré is by far and away the best-known and the best-loved. Since it was not written for a specific performance occasion, and appears to have been conceived simply out of a desire by the composer to assuage some inner yearning, it does not exist in a single authoritative version, and was changed quite substantial over a number of years to suit various performing occasions. As a result, those who talk of an "authentic" performing edition are talking rubbish - there is no such thing. One thing is for sure, we very rarely hear it today in any kind of performance which would have rung true to those listening to it during the composer's lifetime. Here, however, is a recording which has deliberately tried to recreate the sound of one of the performances which took place under the composer's direction and although I have no way of knowing how accurate this is, as a performance in its own right, it rings unusually true to me. I would suggest this is one of the most rewarding and illuminating recordings ever made of the work, even if it sounds quite different from the norm. I reviewed it for MusicWeb International and I reprint my review below. Go their website for details of buying the disc.
Because of its long drawn-out gestation as well as the various performing versions which appeared during the composer's lifetime, there is no such thing as a definitive version of Fauré's Requiem. For much of the 20
th
century the preferred performing version, certainly so far as commercial recordings were concerned, was that involving a fairly large orchestra published in 1900 (much of the orchestration apparently undertaken by Fauré's pupil, Jean Roger-Ducasse). As the century wore on, it became more and more inflated with huge orchestras and operatic soloists transforming the work into something far weightier than the composer ever intended. With the obsession with authenticity which came in tandem with the CD revolution, some musicologists looked back to the very first version Fauré created, and while those musicologists fought esoteric battles over quite what Fauré had originally written, the so-called 1888 version found itself popularised on CD, albeit in more than one allegedly "authentic" scoring. In between both of these extremes, comes the version scored for a relatively small-sized orchestra (violas, cellos, double-bass, horns, trumpets, trombones, timpani, harp and organ) which was first presented, according to Gabrielle Oliveira-Guyon's booklet notes with this CD, at La Madeleine in Paris on 21
st
January 1893 under Fauré's direction. It is not only that 1893 version that is recorded here, but a deliberate attempt to recreate the sound of that performance. We cannot call this the definitive Fauré Requiem, but I reckon this profoundly impressive recorded performance gets closer than any other of the many dozens I have heard in a long reviewing career to revealing Fauré's true intentions in the work.
With no definitive performing version, all we really have to go on as to the composer's thinking are his comments that "I composed it…just to please myself". While the context of this quote – responding to criticism that the work was not religious enough – causes us to treat it with a certain scepticism, there seems little doubt that his intention was to offer solace and ease in the listener, rather than an expression of religious faith in the hereafter or a dramatic response to the ancient Latin text. And this is certainly a performance which has neither devotional nor dramatic impact, but presents in a measured, unhurried and unexaggerated manner the detail of the score with impeccable control.
Yet this is far more than a mere performance of the music, or a carefully-choreographed re-creation of a particular performing occasion, it evokes with disarming openness the distinct essentially simple, direct and comforting musical language of Fauré's work in a way which seems wholly in keeping with the sound-world of late 19
th
century Paris. The most obvious reason for that 19
th
century sound is the use of authentic late 19
th
century French instruments along with the playing styles of the time – something in which the period-instrument group La Siècle specialises. These instruments, especially the horns, add a wonderful mellowness and richness to the sound, and with the totally vibrato-less playing of Sébastien Richaud, there is a deliciously innocent piping violin descant to the
Sanctus.
Historical authenticity is not confined to the instruments, however. The singers of Ensemble Aedes pronounce the Latin text with distinct French vowel sounds in the style of French Latin pronunciation in the days before Pope Pius X issued his advice in 1904 on standardising the pronunciation of Latin in churches. As Mathieu Romano suggests in his own booklet essay, "the word
lux
(light) sung with a French
u
reveals all the brightness of the sound", and because it is so very different from the usual Latin sound we have come to expect, it seems to shed an entirely novel light on this familiar text.
Romano himself maintains generally moderate and stately speeds, which sometimes catch you by surprise, but which create not just an overall feeling of calm and repose, but which, by avoiding histrionics, give real point to the rare moments of dramatic impact. With trumpets and timpani reinforcing the choir, the words
dies illa, dies irae
have real potency, while the
In Paradisum
is shorn of any sentimentality and simply exudes transcendent beauty.
The two vocal soloists are drawn from the ranks of the choir, which certainly concords with the practice of the original Paris performance. But more than that, it creates a feeling almost of the soloist as an organic growth rather than a superimposed voice. This is particularly important with the
Pié Jesu,
added to the Mass movements for the 1893 performance, where Roxane Chalard's endearing voice seems merely a continuation of the vocal timbre from the preceding movements. For me, the most jaw-dropping moment in the entire performance is Mathieu Dubroca's barely perceptible entry in the
Offertoire.
He seems almost to float in and carry on where the choir has left off; it is a moment of pure magic in a performance which is, in any event, well-endowed with magical moments.
Eschewing the obvious and customary companions of the Duruflé Requiem or Fauré's own
Cantique de Jean Racine
Romano reinforces the idea of the Requiem as a work which "addresses itself to every one of us", rather than as an expression of specifically Catholic faith, by drawing on secular choral works from Poulenc and Debussy.
I have reservations about describing Poulenc's
Figure humaine as
secular, since the intensity with which he sets Paul Éluard's words and the powerful emotional impact it had on the Parisians during the Nazi occupation, is nothing other than an expression of great religious zeal. It is hard to imagine a greater contrast of performances than between the Fauré and the Poulenc: while the former was controlled, calm and collected, the latter has a passion and a fervently dramatic edge which at times seems to push the singers to the very brink. It does tend to go over the top in places, the choir's barking out the sneering laughter of
Première marche la voix d'un autre
effectively brushing aside any firm harmonic basis, while the final
Liberté
feels to be straining just a little too hard at the leash for the full effect to come across.
What is certainly not lacking in either the Poulenc or the Debussy
Chansons de Charles d'Orléans
is a forthright and impassioned delivery of the texts. Diction is superlative across the entire body of singers, and Martial Pauliat's tenor solo for the second song,
Quand j'ai ouy le tambourin
is a model of flawless diction and poised phrasing. And if some might be wondering what a tenor is doing singing a solo usually assigned to an alto, the answer lies in the fact that this is not the usual version we hear but Debussy's first draft which exists only in a preserved manuscript copy, which is quite different from what he submitted for publication in 1908; Oliveira-Guyon suggests that this is "no evolution…but a complete rewriting". The first two songs receive impressively secure and committed performances. I am less sure about the third (
Yver, vous n'estes qu'un villain
) where a certain sense of communal excitement amongst the singers leads to a slight lack of collective control.
Nevertheless, all these performances of three key works in the French choral repertoire share a vivid commitment to the music, an absolute conviction and a degree of intensity which transcends any niggling concerns over technical issues.